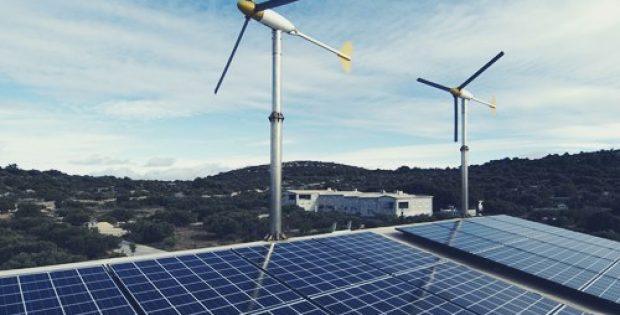 SB Energy, a Japan-based renewable energy management company and Adani Green Energy Ltd (AGEL) are currently in the news for having won 840 MW out of a total of 1,200 MW at the first solar-wind hybrid auction conducted by SECI (Solar Energy Corporation of India Ltd).
As per authentic sources, SB Energy won 450 MW at INR 2.67 per unit of the generated electricity, whereas, Adani Green Energy secured 390 MW at INR 2.69 per unit at auction.
According to an SECI executive, the price is decent enough for the first-time auction given the fact that this is the initial estimate.
It has also been reported that only two developers were bidding at the auction, leaving the remaining 360 MW with no special takers for the power. For the record, in the first auction conducted by the SECI in May this year, there was not even a single bidder, as a result of which the auction was scaled down to 1,200 MW from 2,500 MW.
For those uninitiated, Hybrid power implies the combined generation of wind and solar power with wind turbines and solar modules placed at each other's side.
Adani Green Energy, had a generation capacity of renewable power of 1,958 MW at the end of fiscal year 2018, of which 60 MW is wind power and 1,898 MW is solar power. As reported by Indiainfoline, the company's power generation projects are tied to twenty-five-year PPAs (Power Purchase Agreements) with some state discoms, SECI and NTPC. The company's power capacity of 1.2 GW is presently under implementation with 250 MW towards solar power and the remaining towards wind power.
Reportedly, the shares of AGEL are presently trading at INR 45.70, 1.93 per cent lower from its last closing of INR 46.60 on the Bombay Stock Exchange.
About SB Energy
SB Energy, an accredited member of the UIA (Utilities Intermediaries Association), provides comprehensive solutions of energy management to businesses, while advising them on energy cost reduction and lowering carbon emissions.
About Adani Green Energy Ltd
Backed by the Adani Group, AGEL is a producer and supplier of renewable energy to state and central government entities. It builds and operates power plants through renewable energy sources and provides different ancillary services.